I've seen this done on other blogs before, and I always enjoyed getting a little glimpse of how other moms' days run. I took pictures of the things I did throughout the day, and now YOU get to see. Hope you enjoy! ;)
7:44 a.m.- Kaydence and Laila come wake me up. Here's Kaydence!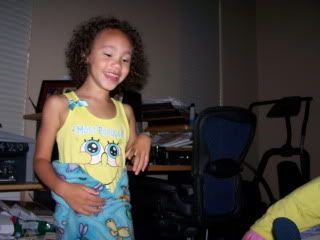 Laila wasn't quite ready to wake up yet, but she likes to follow Kaydence:
First things first! Cappuccino! My favorite machine: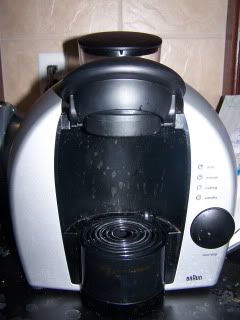 I check on Royce, he's still asleep: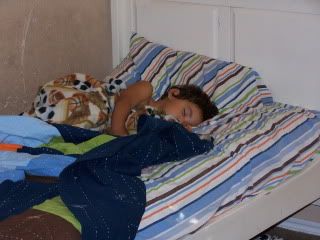 So I take a quick shower. I normally take showers at night, but since I didn't the night before, I took one today! Well sorry, that's not pictured. :)
I get dressed, and here's no makeup me!
I put on some of this... I use it instead of a moisturizer:
And then put on makeup!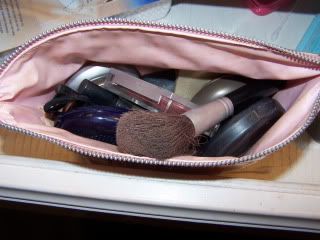 Makeup me!
I throw my wet hair into a ponytail to air dry and go wake up Royce: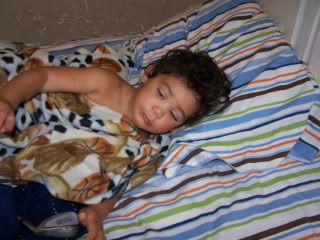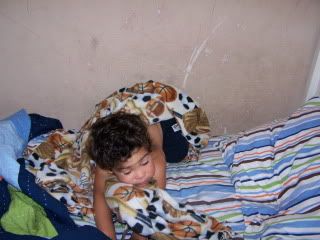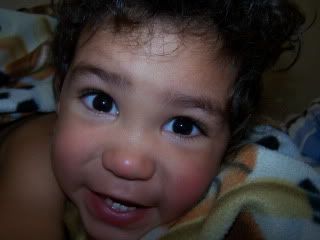 Time for breakfast!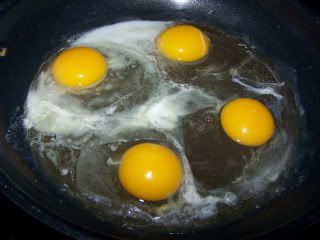 Eggs, toast, and orange juice.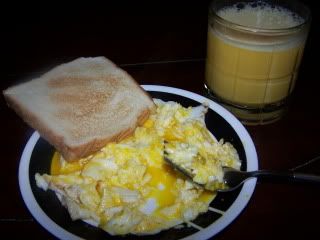 During breakfast, I check Facebook. :)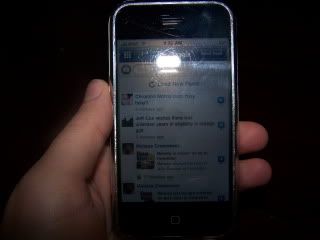 Then the kids get their Vitamin D3: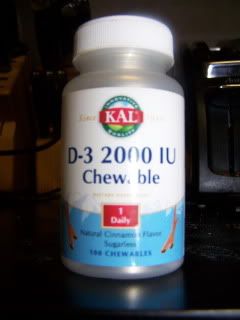 And I take my morning vitamins!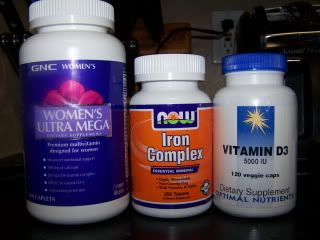 So Sundays are my unofficiall "day off". I don't really do any cleaning, just basically cooking and the normal caring for the children. So the kitchen is backed up!!
I do the first load of dishes: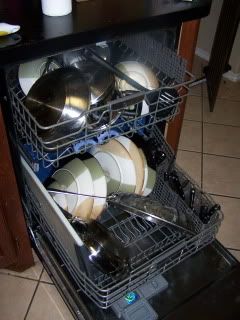 Meanwhile the kids are playing outside in their PJ's (and Kaydence in her princess dress):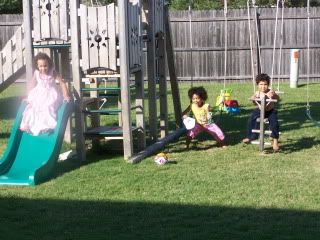 Time to wake up Maleah!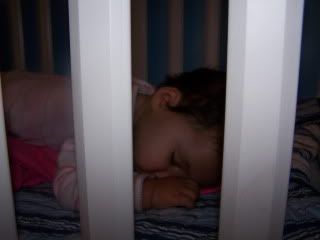 She drinks her bottle while she gets dressed. I'm sad she's not nursing anymore, but for some reason my milk just started running out a couple months ago (which normally doesn't happen until I'm pregnant!). Oh well... At exactly one year that bottle goes BYE BYE!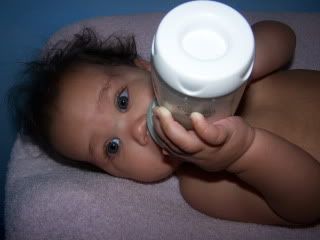 A dressed baby!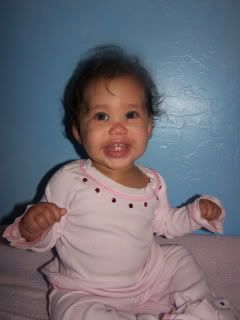 I then call the older kids inside to get dressed. Royce gets dressed first:
Laila dresses herself, and I let Kaydence stay in her princess dress. She didn't want to smile for this pic, lol:
Then I throw a load of laundry in the washer: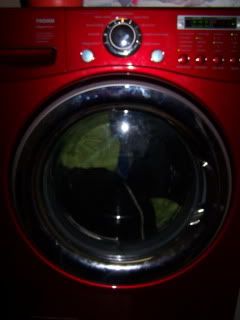 Kaydence has a book to color for school tomorrow. The other two want to color also, so here they are at the coffee table: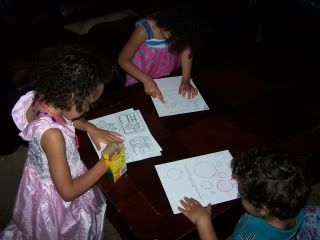 While the older kids are coloring, Maleah is exploring the living room floor: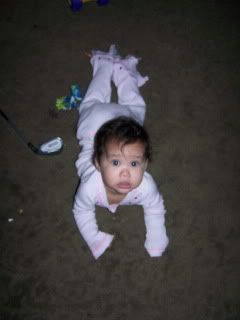 I get to work on some cleaning. I've implemented both Flylady and Managers of Their Homes. I deep clean different rooms on different days. Today was living room day. Time to spray the TV and get the dust off the entertainment center!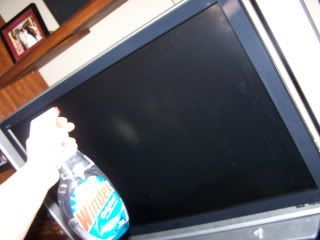 Then we push back the furniture to vacuum up the hidden things, lol: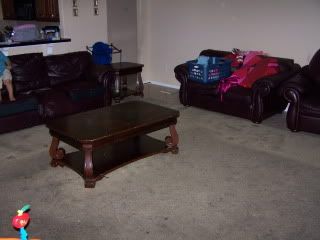 Kaydence and Laila wipe the bottoms of the tables: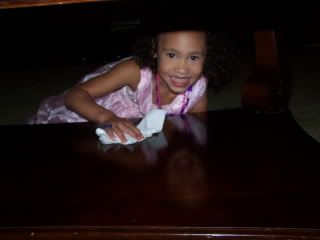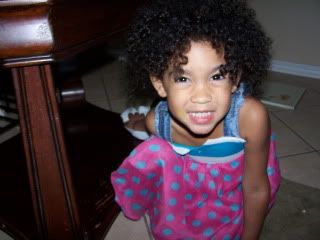 After a bit of work, viola! A shiny living room: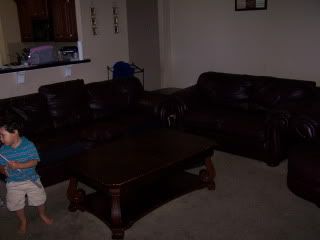 Then it's time for lunch. PB&J's! Quick, easy, and cheap. I have a whole sandwich, Royce has triangles, Kaydence has squares, and Laila has her crust cut off (which is given to Maleah).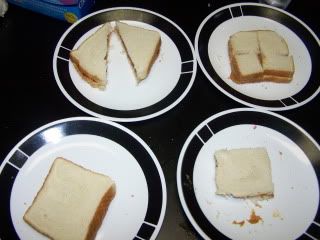 The kiddos eating: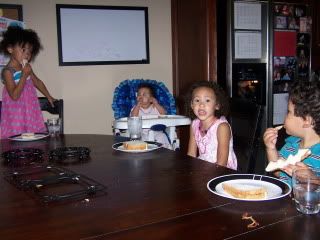 After eating the three oldest go back outside to play.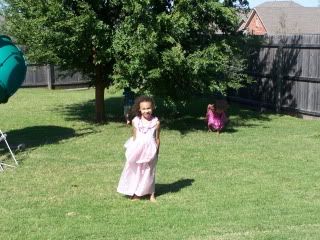 I switch out the laundry...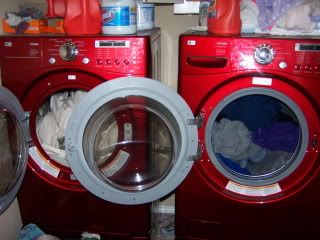 And then I hear a baby getting angry! Maleah was trying to follow me. Scoot!
And scoot some more!
After some baby cuddle time, Maleah gets another bottle.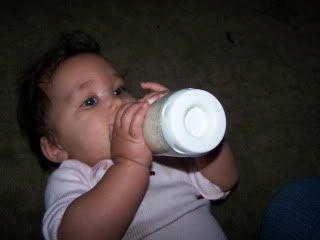 Then Laila brings me a flower.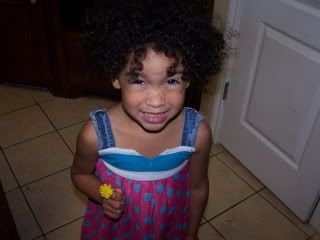 I unload the dishwasher...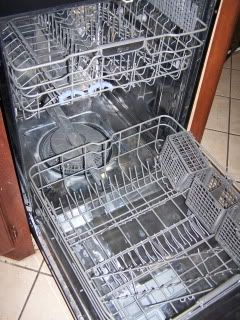 And Kaydence brings me a flower.
Maleah has finished her bottle, and is getting angry, so I take her outside to be with her crazy siblings.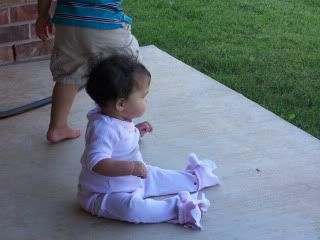 The kids had moved the chairs from the porch out into the sun because they were "tanning". Haha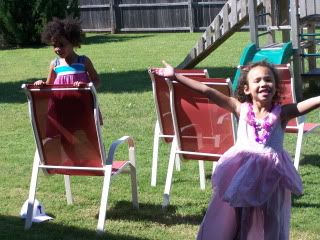 I let the children continue to play outside, while I load in some more dishes! Thankfully I can see the backyard from the kitchen windows. :)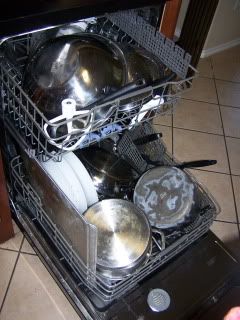 Then it's noon. :)
The kids come inside and wash their hands (because they were throwing coals around!)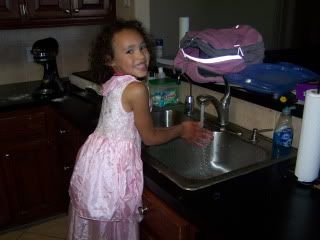 Kaydence gets to work on her handwriting: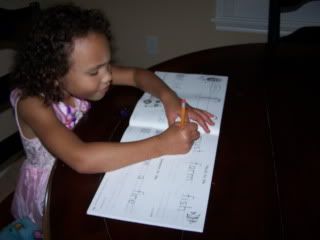 Laila and Royce want to do something too!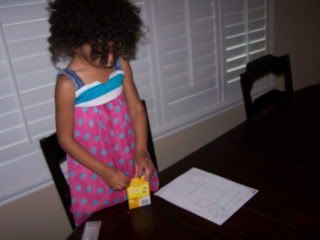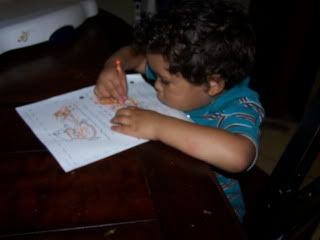 After handwriting, it's time for naps. Night night Maleah!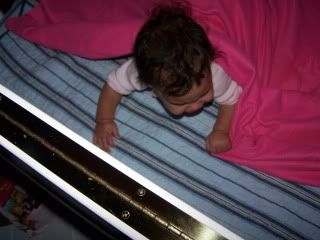 Night night Royce!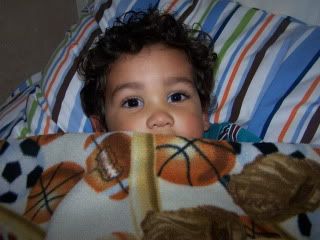 Laila wants one of Daddy's hot Cheetos before naptime!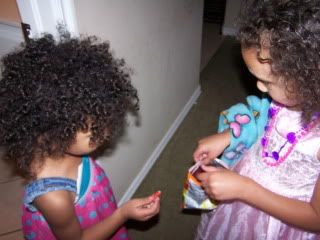 Night night Laila!
When the 3 youngest are in bed, and it's all nice and quiet, Kaydence reads me a book. That way she doesn't get distracted or frustrated. ;)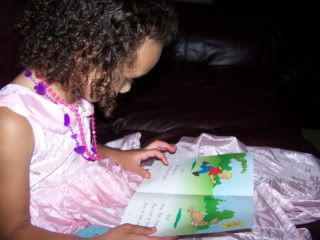 After reading, Kaydence does her math assignment:
When her schoolwork is done, it's rest time for Kaydence. She doesn't exactly nap, but she'll rest on the couch and watch some TV. Sometimes she falls asleep, but not often.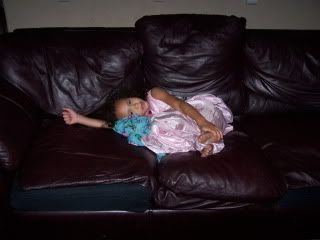 Then it's nap time for me! It's what I gotta do if I want to stay up late with the hubby and wake up early with the kids. And yes, I took a picture of me with my eyes closed, just so you can get the full effect. Hahaha :)
When I woke up, I slacked off on the pictures, so I'll just have to tell you. I woke up, and Chris had gotten home. He had woken up Royce, and as soon as I got up Royce ran and woke up Laila. He wasn't supposed to, but he was just too excited!
We had our "climb all over Daddy" time for a little bit, and then I had some computer time. Got some organizational bill junk done. Fun fun.
I woke Maleah up, gave her another bottle, and handed her to her favorite guy. Then I went to defrost some chicken!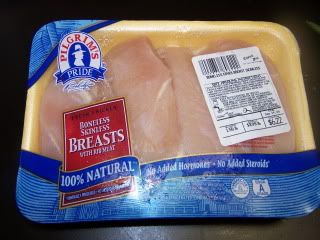 Then I cut the chicken up into tenders.
Chris fried the chicken tonight, with the help of Laila!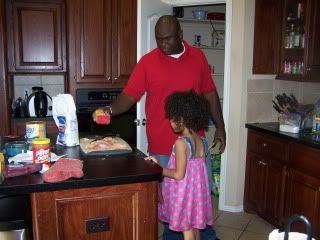 While dinner is being made, I find Maleah crawling around my room. She goes everywhere!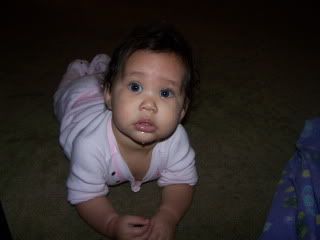 After eating our dinner of fried chicken, broccoli and cheese, and bread... the kids run around the living room while Chris is looking in our yearbook for someone we used to go to school with, (haha, don't ask):
I unload the dishwasher again:
And clean off the table:
While the kids play around, I load the dishwasher back up again and clear off the counters a little bit.
Then it's time for a little relaxation. We all lounge around and play, while hubby watches some Sportscenter. I've learned a lot from that ESPN, haha.
Then it's time for baths. I stick all four of them in the same bath. Then I take them out youngest to oldest and get their PJ's on, while Chris keeps an eye on the ones still in the bathtub.
First is Maleah!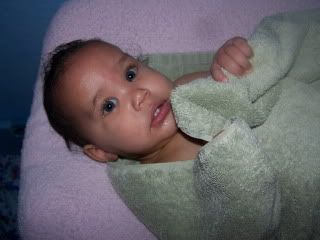 Next is Royce!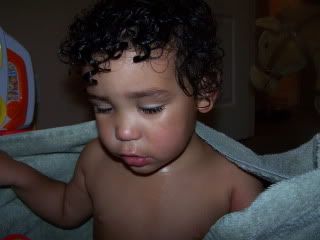 Maleah gets her before bed bottle: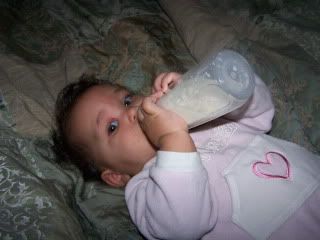 After getting the girls out of the tub, it's time to comb hair and oil it up (coconut oil again!). Kaydence is first!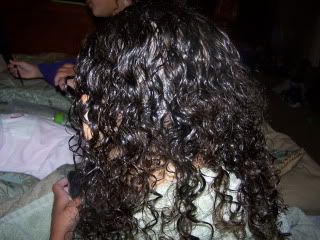 The kids get to play games on my phone while I comb their hair. This was thought up mostly for Laila who HAAAATES getting her hair combed. Kaydence is loading a game of checkers.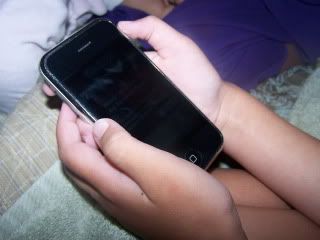 Laila's turn! I get to comb this: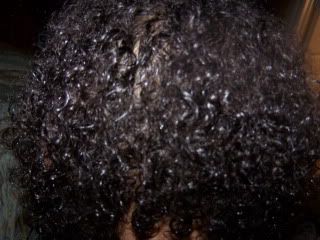 After fixing everyone's hair, we have cuddle/play time on my bed for awhile.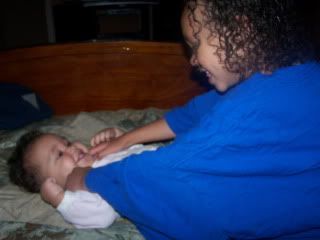 Then it's time for bed! Night night Maleah! (She's wondering why I'm taking pictures of her in her dark room!)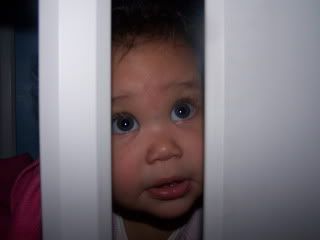 Night night Royce!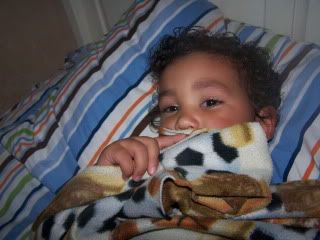 Kaydence and Laila pick up their room, and then I read a bible story to Kaydence and Laila. Today we read "Joseph and His Brothers".
Then they're ready for bed!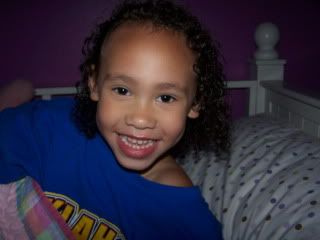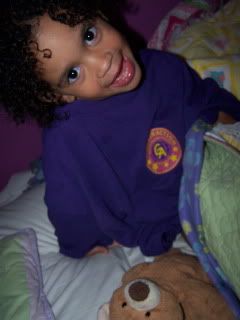 Oooops! Almost forgot those hats to protect their hair!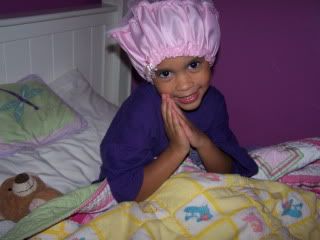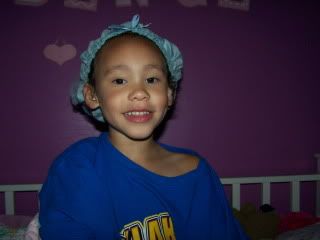 After the kids are in bed, I stick some cookie dough on a baking sheet to pop in the oven, for Chris and me.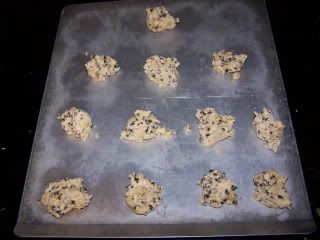 I set the oven for 9 minutes, and wipe all the counters and table, and sweep the floor in the kitchen. Then the cookies are done!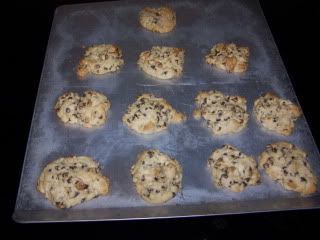 Remember my chaotic kitchen?? I go to bed happy, because it now looks like this (and yeah I need to get some glue for that wooden piece that fell off the cabinets, lol. I forget every time I go to Super Target!):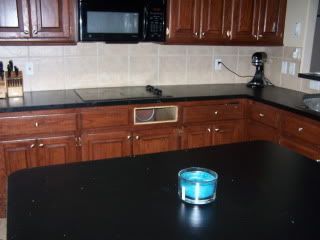 I then hand Chris his cookies, and get some more computer time. This time it's more personal interests rather than business. I catch up on my MOMYS reading, check Facebook and emails, and write this blog!
After this, I will cuddle with my hubby in bed and watch a movie until it's time for night night or something else! ;)
Hope you enjoyed seeing my day! Now I want to see YOURS!